Riveter Kit Pneumatic Air Riveting Tool Gun 1/4, 5/16, 3/8 Nut Head Quick Change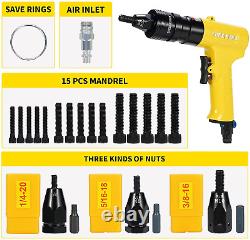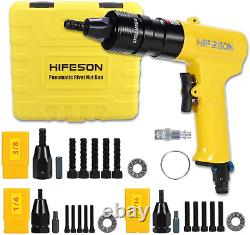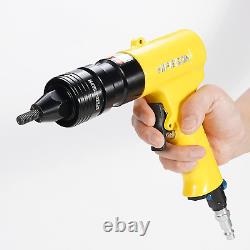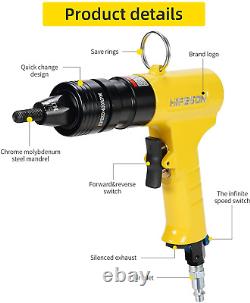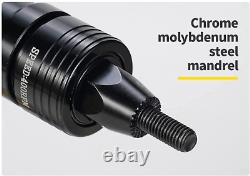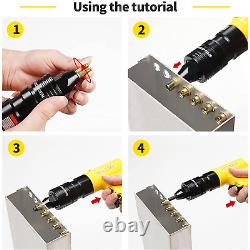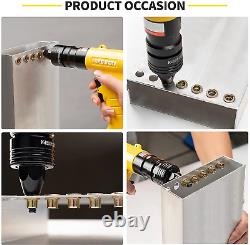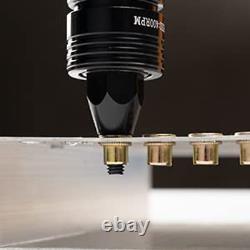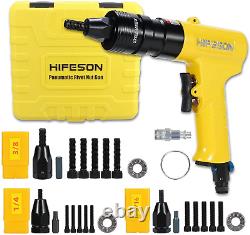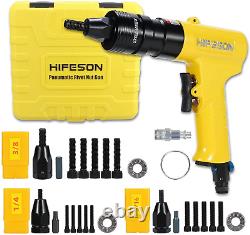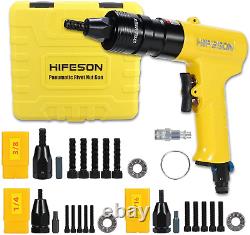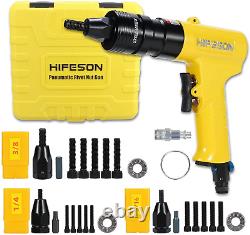 Add this item to your Watchlist. Be The First One To Know When The Item Goes ON SALE! Riveter Kit Pneumatic Air Riveting Tool Gun 1/4, 5/16, 3/8 Nut Head Quick Change. Included 3 kinds of heads 1/4 & 5/16 & 3/8. The size of british system.
It is equipped with 1 / 4 mandrel replacement 5 pcs. Equipped with 5/16 mandrel replacement 5 pcs.
Equipped with 3/8 mandrel replacement 5 pcs. The head has a self-locking function that allows you to quickly assemble and disassemble the mandrels without tools, improve work efficiency, convenient and fast. SHOCKPROOF DESIGN :The shockproof design eliminates the impact of the rivet nut gun on the arm during operation, Light weight, Users are not easily fatigued when they use it for a long time.
Anti-slip handle with ergonomic design that make it easier to operate, comfortable to hold. The switch uses the rocker mode to prevent touching the forward and reverse switch at the same time. Use of impact resistant steel S2 material connecting rod effectively prevent the connecting rod wear.
Effectively reduce shaking, uniform strength. Forging with high quality alloy steel, Higher accuracy, strong wear resistance, have long performance life. Pneumatic rivnut gun with air regulating valve, Adjust the size of gas, Effectively adjust the intensity and speed of work. Embedded muffler vent, effective reduction of noise generated during work. The Brand of cast fuselage is the guarantee of quality.
Applicable gun head: 1/4 & 5/16 & 3 /8. Air pressure: 4.5-7 KG/CM². Air consumption:0.46 m³/min. The pneumatic rivet nut gun will make those riveting projects a breeze and save your hands from tiring out.
The pneumatic rivet nut gun is made of industrial grade quality, labor saving, high efficiency and stable performance. Precision parts and strong power. Self-locking design, quick change of the gun head, easy to operate. Widely used in all kinds of metal sheet, pipe, cabinet, chassis manufacturing, industrial fastening, decoration, automobile manufacturing.
CABEZAL DE PISTOLA AUTOBLOQUEANTE: incluye 3 tipos de cabezales 1/4 y 5/16 y 3/8 (el tamaño del sistema británico), está equipado con 1/4 de reemplazo de mandril 5 piezas, equipado con 5/16 de reemplazo de mandril 5 piezas, equipadas con 5 piezas de reemplazo de mandril de 3/8. La cabeza tiene una función de autobloqueo que le permite ensamblar y desmontar rápidamente los mandriles sin herramientas, mejorar la eficiencia del trabajo, conveniente y rápido. DISEñO A PRUEBA DE GOLPES: El diseño a prueba de golpes elimina el impacto de la pistola de tuercas remachadas en el brazo durante la operación, peso ligero, los usuarios no se fatigan fácilmente cuando lo usan durante mucho tiempo. Mango antideslizante con diseño ergonómico que hace que sea más fácil de operar, cómodo de sostener. El interruptor utiliza el modo basculante para evitar tocar el interruptor de avance y retroceso al mismo tiempo. RESISTENTE Y DURADERO: el uso de biela de material S2 de acero resistente a los impactos previene eficazmente el desgaste de la biela, reduce efectivamente la agitación, fuerza uniforme. Rotor de alta calidad, forjado con aleación de acero de alta calidad, mayor precisión, fuerte resistencia al desgaste, tiene una larga vida útil. ALTA CALIDAD: Pistola neumática con válvula reguladora de aire, ajusta el tamaño del gas, ajusta efectivamente la intensidad y la velocidad del trabajo. Ventilación del silenciador incorporado, reducción efectiva del ruido generado durante el trabajo. La marca de fuselaje fundido es la garantía de calidad.
Cabezal de pistola aplicable: 1/4 y 5/16 y 3/8. Presión de aire: 4,5-7 KG/CM².
Velocidad sin carga: 500 (RPM). Consumo de aire:0,46 m³/min.
Entrada de aire: 1/4 (MPT). Peso neto: 1,3 kg. La pistola neumática para tuercas de remache hará que esos proyectos de remachado sean muy sencillos y evitará que sus manos se cansen.
La pistola neumática para tuercas remachables está fabricada con calidad de grado industrial, ahorro de mano de obra, alta eficiencia y rendimiento estable. Piezas de precisión y gran potencia.
Diseño de autobloqueo, cambio rápido de la cabeza de la pistola, fácil de operar. Ampliamente utilizado en todo tipo de láminas de metal, tuberías, gabinetes, fabricación de chasis, fijación industrial, decoración, fabricación de automóviles. 9.75 x 7.5 x 2 inches. 1/4, 5/16, 3/8 500 R.
Husband Wife Boyfriend Girlfriend Mom Dad Friend. 7.5 inches x 9.75 inches x 2.0 inches.
This item is in the category "Business & Industrial\Light Equipment & Tools\Air Tools\Pneumatic Riveters". The seller is "partsell2016" and is located in this country: US.
This item can be shipped to United States.
Brand: Top Brand
Item Weight: 4.19 pounds
Lift Type: Pneumatic
Model: SAE 1/4,5/16,3/8
Product Dimensions: 9.75 x 7.5 x 2 inches
Size: 1/4 , 5/16 , 3/8 (500 R.M)
Quality: Best Premium Quality Product
Gift For: Husband Wife Boyfriend Girlfriend Mom Dad Friend
Shipping: FAST Shipping
SubCategory: Items On Sale
UPC: 313106929909

---