10L Pneumatic Transmission Fluid Pump Refill Fill Evacuator Tool Kit Extractor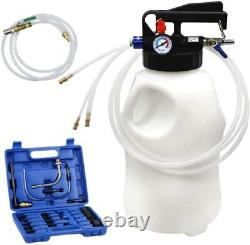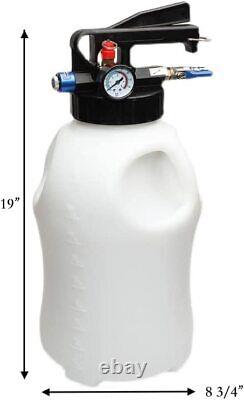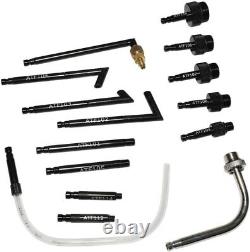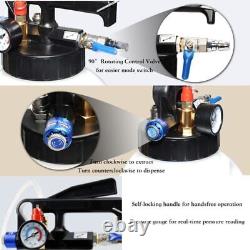 Fluid transfer pump set to work with various automotive non-corrosive liquids at low concentrations, such as differential fluid, gear oil, power steering fluid, engine oil, gearbox oil, lubricating oil, brake fluid, coolant, etc. Pneumatic two-way extractor & dispenser tool by simply switching the extract or dispense mode and buckling the self-locking device to make work handfree, save labor and improve efficiency.
6mm/8mm/10mm connected with quick coupling to make the pump more versatile for various makes and models. Large capacity to avoid repeated refueling and to refuel multiple vehicles at one-off time in a quick and sparkless manner. 15 specific ATF adapters constructed from hardened steel of high strength and durability with black electrophoretic finish to resist rust and corrosion, suitable for various makes and models. 1 Pneumatic Fluid Refill Pump? The blue knob must be consistent with the air control switch valve (Extract or Dispense)0. The 1m nylon hose can be inserted into the car oil container or dipstick hole directly to extract waste oil for recycling and dispensing the new oil for refilling. No need to jack up the vehicle and crawl under it. Pre-set pressure: 43psi / 3bar, excessive pressure will be released automatically. Ensure that all parts are tightly connected and the pump cover is tightly sealed. The extract/dispense knob should be aligned with the flow valve. Do wear protective masks and goggles during operation.
This kit is not allowed for gasoline and fluids of high corrosion, high concentration or high temperature.

---